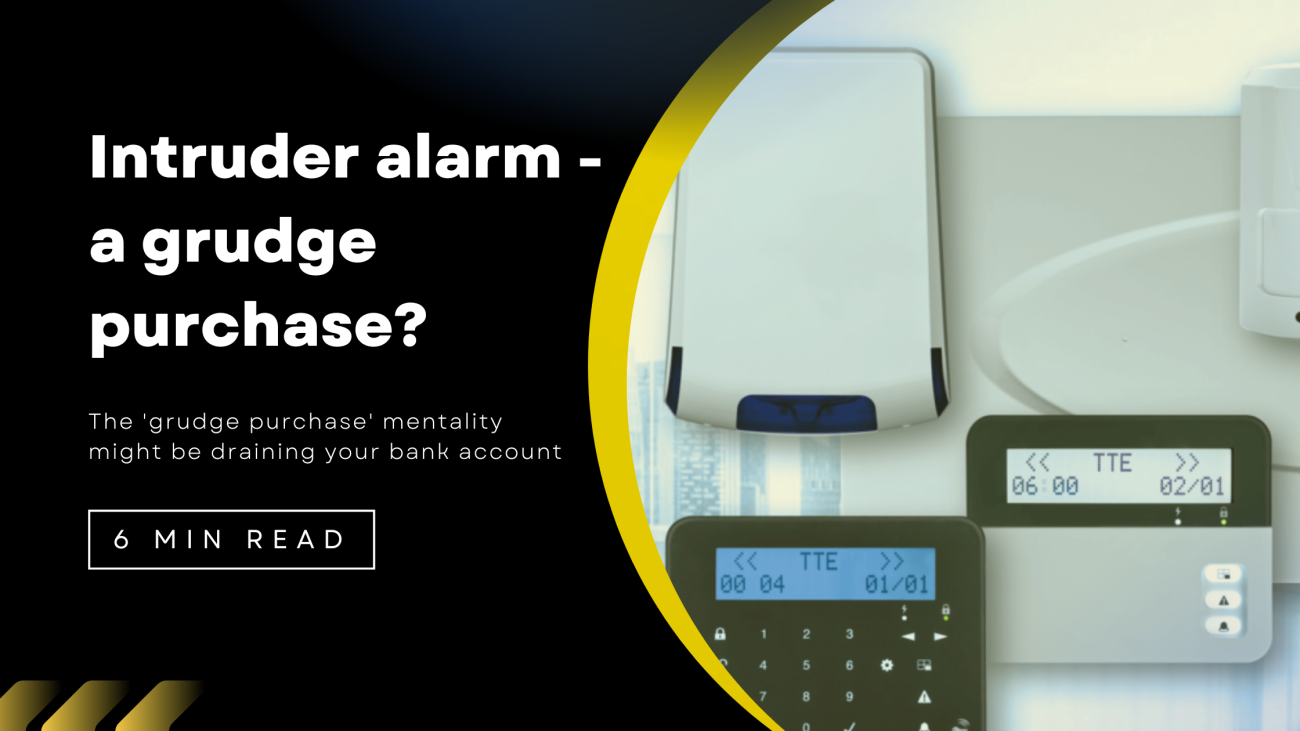 Would you rather pay for an intruder alarm that notifies you before an attack, alerting you to the danger, or one that only notifies you after the attack has occurred?
Obviously, most people would prefer the former option. Nobody wants to pay for an alarm that only tells them they've already become a victim. Customers want to invest in a security system that can prevent them from becoming victims in the first place.
Unfortunately, many companies in the home security industry fail to position their solutions as a deterrent. Instead, they often present home security as a necessary evil, which results in customers making half-hearted, grudging purchases. Rather than investing in the best possible solution, customers look for the cheapest possible option to fulfill their basic needs.
This consumer behavior is negatively impacting the home security business. In this post, we will explore the reasons behind this behavior, ways to improve your selling proposition, and effective means of maximizing the benefits offered to the end user.
Let's get started!
What does a grudge purchase really mean?
A grudge purchase is when a consumer feels obligated to buy a product or service, rather than wanting to buy it. This type of purchase often happens with items that are considered essential, but not necessarily enjoyable.
Consider car repairs, for example. You will only spend on car repairs if there's an accident and your car is damaged. It may leave you feeling disheartened or frustrated because you'll be losing money on an expense you didn't want to have to pay.
Hence, when making a grudge purchase, customers may prioritize finding the cheapest possible option to fulfill their needs. They do not seek top-quality solutions and are not willing to increase their budgets.
This mindset negatively impacts solution-selling businesses. It reduces business opportunities and customer loyalty.
Why is an intruder alarm a grudge purchase?
In the home security industry, intruder alarms have been positioned as a necessary evil for a long time. Most home security companies have marketed their products as reactive measures instead of preventative measures.
For example, intruder alarms are advertised as a solution that will alert homeowners once a break-in is already taking place, rather than deterring burglars from entering in the first place. Similarly, CCTV cameras are often marketed as a way to gather evidence after a crime has been committed, rather than preventing the crime from happening in the first place.
This positioning has led to a mindset among customers that they are forced to spend money on home security, rather than feeling empowered to make a proactive investment in their safety.
The following factors further amplify the friction of the buying process. They may hesitate to invest in a high-quality home security system because it's:
Intrusive & Expensive: Intruder alarms can be expensive, and the installation process can be intrusive, requiring wires to be fitted throughout the house.
Not Easily Operable: Consumers may feel that intruder alarms are not easy to operate or out of their control due to reliance on professional installation and monitoring services, which makes the system complicated and inaccessible. False alarms or technical issues can lead to frustration and a sense of powerlessness. They want something they can operate by themselves (such as IoT-based solutions).
Not Required on a Day-to-Day Basis: In case of police-response intruder alarms, consumers feel they're paying too much for something that might come in handy once in a blue moon. You can counter this by incorporating features that increase the day-to-day interaction of intruder alarms with end consumers, such as push notifications about site status.
Zero guaranteed output: Police services in the UK respond to confirmed intruder alarms only. False alarms can result in fines or even suspension of service. Plus, the response time can vary based on location and availability of resources.
Other than that, they may avoid making the grudge purchase with a 'perception of unnecessary'. People may believe that they live in a safe area or that they don't have any valuable possessions that would attract burglars.
Tips for Home Security Companies: How to sell home security solutions?
Home security companies can add value and defeat the "grudge purchase" mentality by demonstrating the benefits of investing in a home security system that provides both security and peace of mind.
Here are a few tips to make that possible:
Offer personalized solutions: Every homeowner has different security needs based on their lifestyle, location, and home design.
Home security companies should offer personalized solutions tailored to each homeowner's unique requirements. This could involve conducting an on-site assessment to identify potential vulnerabilities and recommending the most suitable security measures.
Educate homeowners: Many homeowners are not aware of the latest security technologies available in the market or may not know how to use the tech they have.
Home security companies should provide education and training on security measures such as smart locks, motion sensors, security cameras, and more. They could also provide guidance on how to use security systems to their full potential, such as integrating them with home automation systems for increased convenience and security.
Provide round-the-clock or easy monitoring: Homeowners want to feel secure even when they're not at home. Offering 24/7 monitoring services provides homeowners with the peace of mind that their homes are being protected even when they're away. Home security companies empower customers to monitor their homes for unusual activity via mobile apps or another tech that gives them an alert wherever they are.
Offer affordable options: Home security companies should offer affordable options that are accessible to a wide range of homeowners. This could include flexible payment plans, leasing options, or low-cost DIY security solutions that are easy to install.
Provide excellent customer service: Security systems can be complex, and homeowners may have questions or concerns about their systems. Home security companies should provide excellent customer service to address any issues promptly and effectively. This could include offering 24/7 customer support, providing clear documentation and instructions, and offering on-site support if needed.
Partner with other home service providers: Home security companies can enhance their offerings by partnering with other home services providers such as home automation, insurance, or energy companies. This can provide additional benefits to homeowners, such as discounted rates or integrated services that offer increased convenience and value.
In any case, the goal is to position security products as an added convenience or a means of upgrading the quality of life. So, make sure you highlight the benefits of security products and sell your clientele a lifestyle instead of just the product!
We also recommend offering security consulting services to help your potential customers navigate their way around security services & products. So, they can pick the best for their budget. It also helps build trust and increase customer retention & loyalty. In this way, the overall feel of the customer journey is improvised & the grudge element is eliminated altogether
Or Simply, Consult Your Needs with 1-Secure…
At 1-secure.co.uk, we understand the frustration and anxiety that builds when you feel like you've wasted your money on a security system that doesn't meet your needs. That's why we take pride in offering not only top-of-the-line security products but also expert advice and installation services to ensure that you get the best possible protection for your home or business.
With our 16 years of experience in the industry, we've seen firsthand how the wrong products and inexperienced vendors can lead to endless spending – and STILL not achieve satisfactory results! That's why we're committed to working with our customers to identify their unique security needs and providing custom solutions that fit both their budget and requirements.
We offer a wide range of products and services, including CCTV installations, intruder alarms, smart locks, and more, all backed by our expertise and commitment to customer satisfaction. So, when you choose 1-secure.co.uk, you can have peace of mind knowing that you're getting the best possible protection for your property.
With that said, don't let the 'grudge purchase' mentality hold you back from securing your home or business. Contact us today to learn more about our products and services and how we can help you achieve the security and peace of mind you deserve!