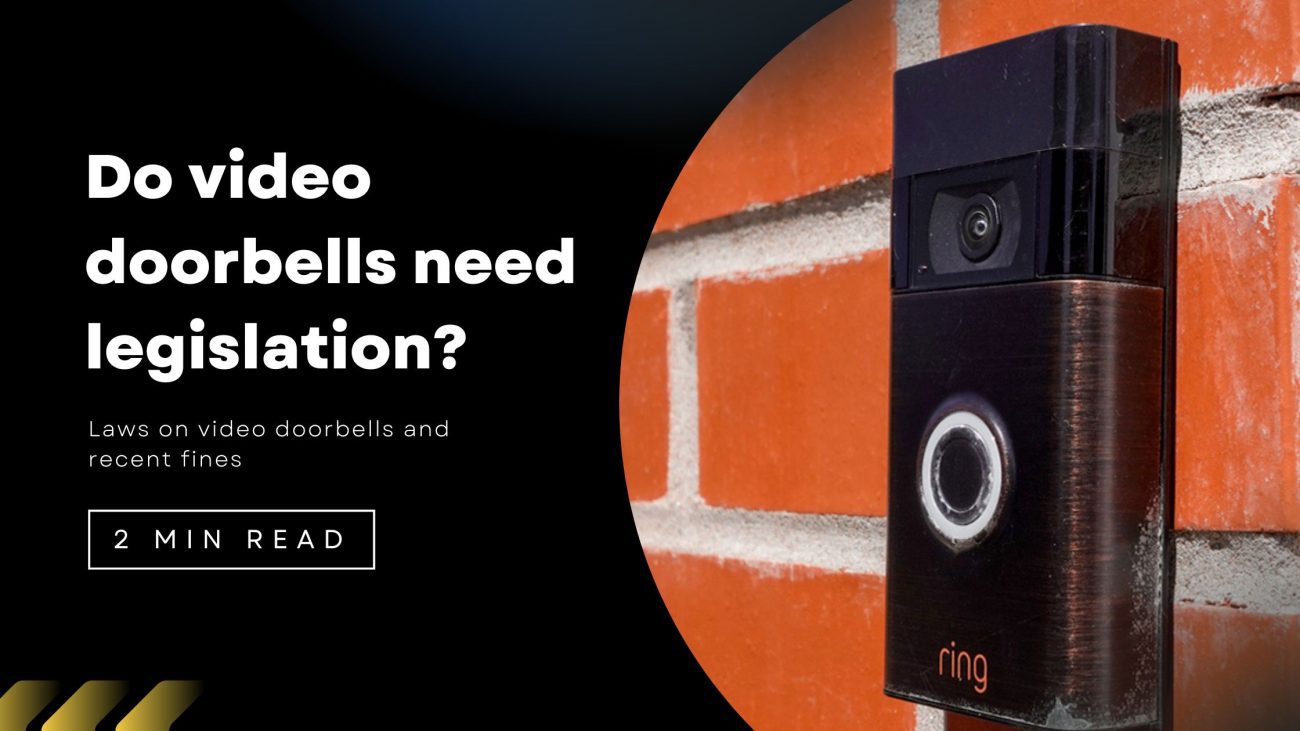 March 7, 2023

|

News

|

0
942
Video doorbells legislation recently had a man pay £100,000 as a fine.
The man, namely Jon Woodard, had recently renovated his house and got Ring video cameras installed. Being proud of the upgrades, he invited his neighbors – to, you know, show off a bit.
And that's where things went too wrong for him.
His neighbor, Ms. Fairhurst, noticed the cameras and requested he takes them down, claiming it invaded her privacy. Having spent his precious money on the new upgrades, Mr. Jon Woodard was reluctant. As a result, he ended up defending himself in court – paying the court fees, lawyer fees, AND a £100,000 fine.
This is a real incident of 2021. Grab more details on the case of Jon Woodard of Oxfordshire here.
But in this post, we'll give you some details that can keep you from suffering the same fate as Jon Woodard. It's possible to use video doorbells without paying heavy fines and offending people. But for that, you need a sound understanding of the law.
Below, we'll explore all the laws and legalities with respect to door video cameras in the UK.
Do video doorbells need legislation?
Yes! It is necessary to have some legal regulations for video doorbells to ensure the privacy and security of each individual in the community. Currently, under UK law, it is permissible to install video doorbells as long as they align with the defined conditions – especially after Jon Woodard's case.
UK Privacy Laws for Video Doorbells
As of 2023, there are two pieces of legislation that concern video bells. These are:
The Data Protection Act 2018 is basically derived from GDPR.
Now, GDPR is originally from the European Parliament, and it was put into effect on May 25, 2018. So far, it is known as one of the harshest privacy & security laws in the world. That's because it imposes huge fines on anyone who violates the terms (as evident in Jon Woodard's case).
Hence, DPA is technically the same as GDPR.
As per this law, it is okay to install video doorbells as long as you're capturing the following:
Household activity
Personal data
Your guests and visitors
Basically, video doorbells are permitted as long as they are capturing data within the premises of your home, which includes in-house and immediate out-of-house vicinity.
Note that your garden and pavement do not count as your personal property or a part of your home. So, if you install video doorbells that may record the garden or pavement too, let others know about the presence of a video camera.
You can do so with a warning sticker or sign. In this way, everyone is aware of the camera being present. If someone has an issue with it, they must communicate their issue. But if they express no issue upon knowing, there's no wrong on your part.
What happens if someone reports my video doorbell?
By standard protocol, if someone has an issue with your video doorbell, they will first communicate the issue with you. You can negotiate with them and settle for something that's fit for both you and the complaining party.
However, if you refuse to cooperate, they can take legal steps against you. In this case, the complaining party will be first questioned about their complaint. If their complaint has valid grounds as per the video doorbells legislation, i.e., it is proven you're threatening their privacy, they will file a suit against you.
A trial will continue, and the court will decide whether you're guilty. In case you're found guilty, you will be fined.
During the trial, you can settle matters with the complaining party outside the court. You can do so by hiring a mediator and reaching a compromise.
At times, police may ask you for video captured via your video doorbells. It's best to provide the footage as soon as you're asked for it. The police are legally permitted to request this data for investigation.
Plus, if you've got a Ring video doorbell, you ought to know that Amazon will share the footage of your video doorbell with the police in case of any emergency without prior notice or warning.
How to comply with UK video doorbells legislation?
The UK video doorbells legislation is applicable to dedicated video doorbells and complete CCTV home security systems. The first step towards law compliance is to ensure that any camera installed within the premises of your home is law-friendly.
For example, installing security cameras manufactured by HikVision and Dahua is not a good idea. Grab more details on the subject here: HikVision and Dahua banned in the UK.
Apart from that, you can:
Ensure that the video camera doesn't face a shared or public space.
Put up signs that indicate the presence of a video camera.
Ensure recordings are not shared with anyone except when absolutely necessary.
Ensure recordings are kept for a limited time only and are deleted routinely.
Maintain a written record of why video surveillance is necessary and what your practices are with respect to it. This document will come in handy if the ICO wishes to assess your intentions regarding video doorbell installation.
If a public member requests recordings for valid concerns, you must share the recordings with them within 30 days of receiving their request. If you don't, you must decline their request via email or a written document, mentioning why you declined.
FAQs
Do you need permission for a video doorbell?
No. You do not require permission to install a CCTV or a video doorbell at your home unless you reside in a listed building. Some housing societies have rules of their own. So, you might want to check with your local community council before you install a CCTV or video doorbell.
Are ring doorbells GDPR compliant?
The compliance of Ring doorbells with GDPR depends solely on how you use the doorbell. But for the general welfare, the manufacturers of Ring doorbells have set up a privacy policy that makes their operations and data usage GDPR-friendly.