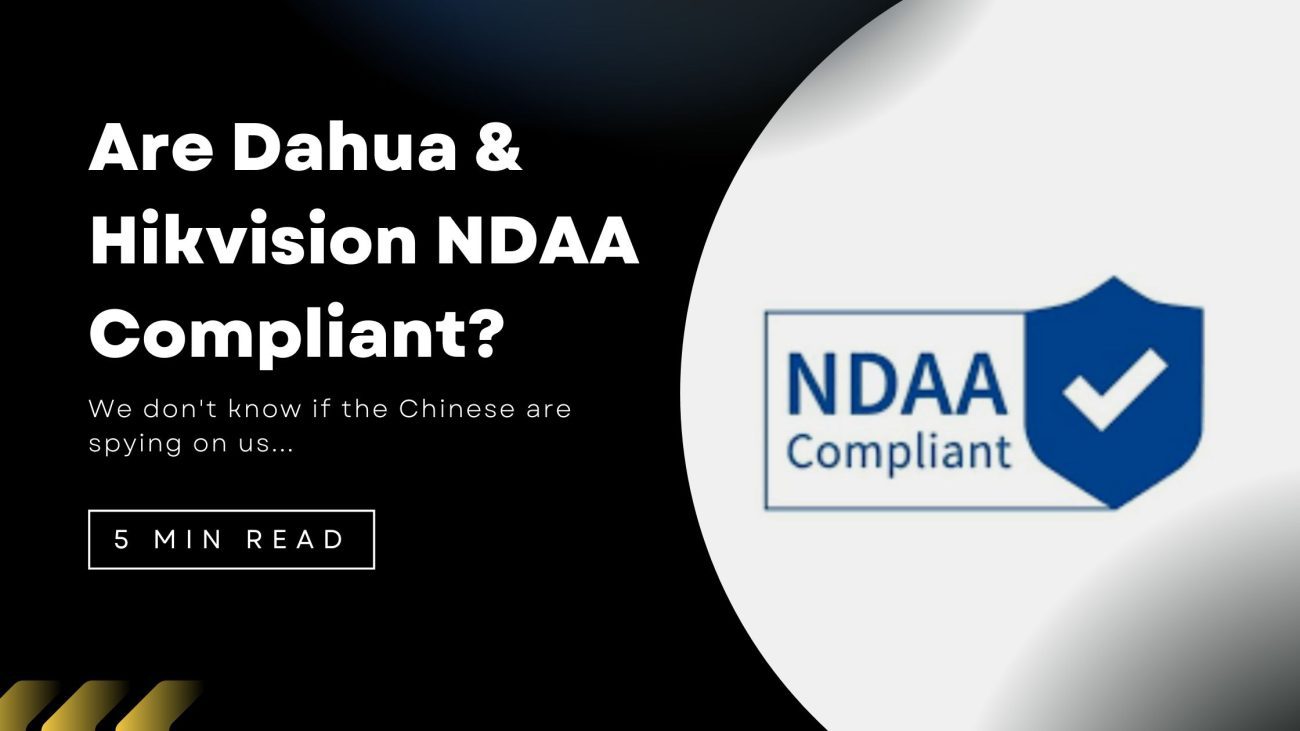 March 10, 2023

|

News

|

0
1,498
It's not safe to trust Hikvision and Dahua products anymore. We don't know if the Chinese are spying on us.
At least, that's what the recent development in laws suggest.
Recently, the US Federal Communications Commission (FCC) limited the authorizations for these two companies on a national level. While in the UK, surveillance cameras manufactured by these companies are now completely banned at sensitive government sites.
Australia and the European countries seem to be gradually moving towards the same.
In this post, we'll dive deep into what this 'ban' encompasses. And how NDAA compliant does that leave Hikvision and Dahua? They're still the biggest video surveillance manufacturers and suppliers…
So, what does it really mean for those who already have these cameras installed, and how should UK security businesses go about it?
Let's find out!
What does it mean to be NDAA Compliant?
NDAA stands for National Defense Authorization Act. It is an annual legislation that sets policies for the US defense agencies and how the military funding should be spent.
So, simply put, NDAA Compliant refers to products, services, and acts that align with policies set by this body. If anything is against these policies, then it is non-NDAA compliant.
How does that have anything to do with security businesses in the UK?
Well, that's a valid concern. Because laws and policies announced by this body are directly applicable to all federal agencies of the US only. These include:
Department of Defense (DoD)
Department of Energy (DoE)
Department of Homeland Security (DHS)
Department of State
Veteran Affairs
Central Intelligence Agency (CIA)
National Security Agency (NSA)
Federal Bureau of Investigation (FBI)
However, any third parties doing business with these agencies are also affected by the NDAA.
For example, suppose the DoD has hired a security-providing company in the USA to install security cameras. Now, this company operates in collaboration with a CCTV installation company from the UK.
Although the hired company may not be using HikVision and Dahua in light of NDAA. But the company based in the UK might still be using CCTV cameras manufactured by Hikvision or Dahua – which is not acceptable for DoD.
So, in this way, NDAA indirectly affects any third party that's doing business with individuals or companies located within the USA.
It is important to note that the original bill banning Hikvision and Dahua surveillance equipment was issued in 2019.
In 2021, NDAA further expanded this ban. Now, the federal agencies of the USA cannot use any equipment produced by these companies or avail of their services.
NDAA Compliant Companies
Here are the top-rated NDAA-compliant companies:
Axis Communications
Watchdog
Samsung Hanwha
Vivotek
Special
Pelco
ACTi
Bosch
Mobotix
Honeywell International
Panasonic Corporation
Sony Corporation
Tyco International
NDAA Banned Companies
In the revised version of NDAA, the US government further expanded the list of Chinese companies with unreliable products and services. These include:
HikVision
Dahua
Huawei
ZTE Corporation
Hytera
🚨 If you have CCTV cameras from any of these companies installed at your home or workplace, give us a call right now! We'll thoroughly check to ensure your safety isn't being compromised.
How does the NDAA ban affect UK Security Protocol?
So far, the UK has banned the use of Hikvision and Dahua CCTV cameras from sensitive sites. The use of Dahua and HikVision products and services is not completely banned yet. But it is restricted.
However, there are some other impacts of the NDAA ban on the UK's security industry. These are as follows:
Supply Chain Disruptions
UK security installation companies that rely on Hikvision and Dahua for security products and their parts will have to look for an alternate solution. This will disrupt the supply chain, delay ongoing projects, and increase costs as companies look for alternative products.
Increased Scrutiny of Chinese Surveillance Technology
The ban may lead to increased scrutiny of Chinese-made surveillance technology in the UK, including other Chinese companies that provide similar products. UK security officials are likely to become more cautious when considering Chinese technology for security applications.
Alternative Security Solutions
The ban may prompt UK security officials to seek alternative security solutions from other countries or companies. This could provide opportunities for UK-based or other non-Chinese companies to provide security products and services to the UK market.
Geopolitical Implications
The ban is part of the wider geopolitical tensions between China and the US. Since the UK is a close ally of the US, it is likely UK will support USA's stance on Chinese technology. This will adversely affect UK-China relations, and China might take similar actions against UK companies operating in China.
Here's How to Deal With It
It is advisable for security businesses operating in the UK to take immediate notice of the situation.
If you offer installation services to businesses and local citizens, you can continue with your business as it was. You can even sell Hikvision and Dahua products to local citizens and businesses if someone's interested in buying.
However, it's a good idea to slowly and gradually empty your inventory of Hikvision and Dahua products. Do not buy newer products or sign newer contracts with the companies, especially if your target audience lies in the USA. There's a high chance the UK will take serious measures against Hikvision and Dahua too, quite very soon.
As for those who already have these products installed in their homes and workplaces, they can use the products too. But again, ring us, and we'll let you know how safe these products are or if you need a better solution.
In case you're working with or for the UK or US government in any way, it's best to get your security systems changed.
Where did Hikvision & Dahua go wrong?
We now know all about NDAA and compliance with the bill. But what's the basis of all this?
When and why did Hikvision and Dahua go from being the most trusted manufacturers of surveillance equipment in the global market to having an unreliable status?
Well, we've covered it all in our blog post: Why did UK ban Chinese security cameras from Dahua and Hikvision?
But here's a summary of the biggest reasons behind this shift:
According to Chinese law, companies originating from China must cooperate with the government. Even if it means requesting confidential data.
Hikvision and Dahua supply surveillance cameras to monitor Uyghur Muslims in concentration camps.
There are some background reasons behind the downfall of Hikvision and Dahua, such as their Chinese origin. The geopolitical tensions between China and the USA have also aggravated the situation.
Stay tuned to catch more details on the subject. We'll be updating you with more details soon!