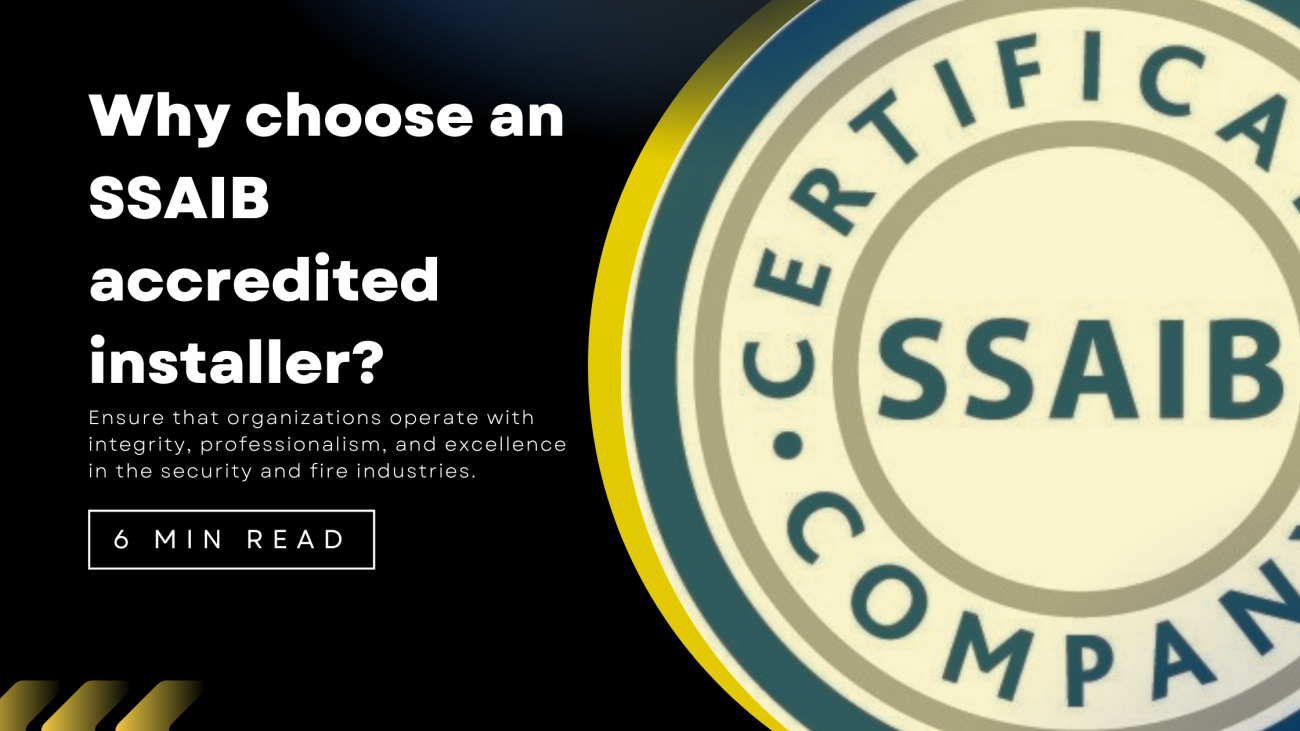 How do you know which company offers the best security camera installation services in UK?
Well, there are a variety of factors to consider and you can check them out here: Complete Guide to Choosing a CCTV Installer.
But if you want to quickly assess whether a CCTV camera installation services company is worth considering or not, check for their SSAIB accreditation.
If they have it, that's good news! Go ahead and assess other factors. But if they don't, move on to your next option. Unaccredited companies may as well be a fraud.
In this post, we'll explain how that is the case. We'll dive into the details of SSAIB accreditation and share some tips on how to recognize authentic SSAIB-accredited alarm installers.
Toward the end, we'll also share how our recent SSAIB-accreditation worked out. They loved us! 😉
What does SSAIB-approved mean?
SSAIB is an acronym for Security Systems and Alarms Inspection Board. So, the term 'SSAIB-approved' simply means this board has approved the quality standards offered by a security systems installer.
What are the criteria for quality standards? Why are we trusting SSAIB? And what's really the impact of SSAIB accreditation on security systems providers as well as the end consumer?
Let's go through each concern, one by one.
What are the criteria for SSAIB quality standards?
The quality standards set by SSAIB are designed to ensure that certified organizations meet specific requirements and operate at the highest quality standards.
Here's a breakdown of the aspects they assess before certifying a security systems installer:
Technical standards: Should meet the technical standards set out by industry bodies such as the British Standards Institution (BSI) and the National Security Inspectorate (NSI).
Quality management: Should have a robust quality management system in place that adheres to ISO 9001 standards.
Staff training: Should house a team or staff members that are properly trained and qualified to carry out their roles effectively.
Customer service: Should be committed to providing high levels of customer service. An SSAIB-certified organization should respond promptly and appropriately to customer complaints.
Compliance: Should comply with all relevant legislation and regulations, including the Data Protection Act, Health and Safety at Work Act, and the Private Security Industry Act.
Overall, SSAIB's quality standards aim to ensure that certified organizations operate with integrity, professionalism, and excellence in the security and fire industries.
Why are we trusting SSAIB certification?
We know how SSAIB assesses a security systems installer. But why are we entrusting SSAIB certification in the first place? Is it a government organization?
Nope! SSAIB is not a government organization. It is an independent certification body that operates as a not-for-profit company limited by guarantee.
However, SSAIB itself is accredited by the United Kingdom Accreditation Service (UKAS), which is the sole national accreditation body recognized by the UK government to assess organizations that provide certification.
Plus, SSAIB has been operating since 1994. And currently, it is recognized all over the UK.
It is even recognized by the Police.
With that said, SSAIB is also a member of the Association of Chief Police Officers (ACPO) Security Systems Policy Committee. This means that SSAIB's certification is often a requirement for organizations to obtain police response to their security systems.
So, summing up, we trust SSAIB because the police trust them too!
Impact of SSAIB-approval on Security Systems Provider
For security systems providers, SSAIB accreditation means increased business and responsibility.
You're likely to enjoy increased business because it improves your reputation in the industry. Customers are likely to trust an installer that's known to offer the highest quality and reliable security systems.
Plus, SSAIB accreditation makes your security systems eligible for prompt police response. And this, in turn, gives you a competitive advantage.
What's more, many insurance companies offer discounts to customers who use SSAIB-approved installers. It can serve as a powerful incentive for customers to choose an approved installer over a non-approved installer.
However, it means added responsibility as well because you need to renew your SSAIB accreditation every three years. Each year technology advances and so does the criteria set by SSAIB. So, you'll need to constantly upgrade the tech and quality of service you offer.
Impact of SSAIB-approval on Buyers
If you're a homeowner or business owner seeking a security system, you've two options:
SSAIB-approved company
Not approved company
If you entrust an SSAIB-accredited installer, you might have to pay a slightly higher price than you'd pay to a non-approved company. But it's worth it in the long run because the security system will actually do its job instead of failing you at the last moment.
Since it qualifies for police response as well, you can rest assured that the police will be monitoring your system in case of an incident and will surely respond if things go wrong. This is particularly beneficial for those who leave their dependents at home when going to work.
Plus, an SSAIB-approved security system eliminates the risk of a data breach, intentional privacy invasion, or faulty equipment.
Certified installers are also required to provide ongoing support to customers, including maintenance and repair services. So, there'll be support for you every step of the way!
How to find an SSAIB-accredited installer?
Finding an SSAIB-accredited installer is fairly simple. Just search for the best security system installation services in your local area.
They're all likely to be SSAIB-accredited. But even so, log on to their website and search for their certifications. It will be listed there. If it isn't and you really want to opt for that service, you can send an email and confirm. Or even visit their office.
Alternatively, you can use the SSAIB website to search for an accredited installer. There's a search function that allows web visitors to search for approved installers by location, type of service, and other criteria.
Here's where you can get started: Security Provider Services
You can also check with industry associations such as BSIA or FIA. Or you can check with your insurance company. Note that insurance companies are highly likely to offer insurance discounts for SSAIB-accredited installers mentioned in their lists.
1-Secure: SSAIB-accredited CCTV Installer in UK
Alright, storytime!
So, we've been operating in the UK for about 16 years now. And it's been quite a journey.
We started small with the intention of creating a healthier, safer community. And most importantly, we aimed to make security the last of your worries.
When you're investing loads in systems that are supposed to protect you, we believe you should be able to live with a peaceful heart and mind. There's no point to anything if you're constantly edgy about the installed system – constantly worrying if it's working or not.
To address this issue, we brought top-notch quality and globally-recognized products within your access. These include:
CCTV systems
Intruder alarms
Intercoms
Fire alarm systems
Access control systems
You can visit us in High Wycombe and see these for yourself.
However, products alone cannot do much. You could have the best CCTV system installed at your place and still have burglars break in – because well, you're not using it right!
We realized this early on and added professional security monitoring, advisory, and installation services to our agenda. Today, we're proud to say you can trust 1-secure with both; the best security products as well as the best security systems installation services.
We've upgraded our skillset, team, industry share, and recognition over time.
So far, our clients have proudly endorsed us for the quality and commitment we offer (read what our clients have to say about us!!!) — but now, the SSAIB has also endorsed us for top-notch quality and reliability.
We are now SSAIB-accredited for the following products and services:
CCTV systems
Access control systems
Intruder Alarms
Click on each to learn more about the service. Or simply send us a Whatsapp message at 01494 416 461 and we'll get back to you within five minutes!
Please know we believe in eradicating security risks posed to your business or home to a complete 100 percent. We'll not only advise you on what systems are necessary for you based on our industry knowledge. But we'll also inspect your site and suggest accordingly.
As far as costs are concerned, your trust brings us business. It's precious to us and there's no way we're going to risk it. 🙂
We'll help you minimize expenses wherever possible, so you'll be only spending minimal but solid. That's a guarantee!